Have you ever wondered what it would be like to sing the national anthem for a huge sporting event? My dream is to sing the national anthem at a Denver Broncos game at Sports Authority Stadium. And today, my dream is one big step closer. I had the chance to sing the national anthem at the Denver Sports Authority Stadium for the Denver Outlaws lacrosse team. Here is my mom's video of my performance. It was taken with her iPhone, so it's not very professional. But as you can see, it was an amazing experience!
The game started at 1:00pm on Sunday, July 19. We arrived at 11:15am and were directed to enter through the north tunnel where there were people who checked us in and gave us tickets to the event.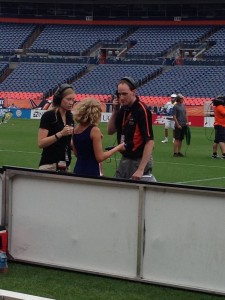 Then we went directly to the field for a sound check. The people were really nice and gave me some great tips.  They told me there would be a delay between my voice and the sound coming through the stadium speakers. They said I could try to just sing or use ear plugs. I tried it both ways and ended up with the earplugs. If you've ever talked into a phone that has an echo or "tin can" effect, it was like that, amplified. My real voice sounded tiny and the voice coming through the speakers was really loud. So I needed to sing really slowly to keep track of where I was.
After the sound check, our escort took us back to a holding room that was near the players' locker rooms. We got pizza and hung out there for an hour. My sister, Gracie, our friend, Rachel, and I wrote our a message on the chalk board that said, "If anyone famous sees this, give us a call!" Then we left our phone numbers.
My voice coach, Stuart Whitmore, was there with us. I tried to teach him to do a duet with me to the Pharrell Williams song, "Happy". Stuart and I spend a lot of time laughing together during our voice lessons. Then he took me through some vocal warm-ups.
People kept asking if I was nervous. But honestly, I never even felt butterflies – not even when they came to get me to go back out on the field. When we came out, there were a lot of people there. But the stadium wasn't full. I was told that the stadium seats 76,125 people. And the stadium is sold out for a lot of the Broncos games. There were 5,128 people there for the Denver Outlaws game, which is by far my biggest audience yet!!!
The sound people gave me some last-minute cues as to when I should start, then we went out on the field. It all went pretty quickly from there. The camera crews got into position, they announced my name, then I started to sing. There were a few things that were different than the sound check. The first one was that there were cameras, so I wasn't really sure where to look. But the biggest difference is that I could see myself singing on the megatron! Imagine seeing your head on a 40 foot high screen. It was incredible but scary. My mom said she couldn't believe I could sing with the sound delay and seeing myself on the megatron. When I walked off the field, I was really proud that I'd made it through without any major mistakes.
Then we had great seats to watch the rest of the Denver Outlaws game. The Outlaws won 20-14 against the Florida Launch. We got to have the players sign posters and shirts after the game. My brother is totally addicted to lacrosse, so he was stoked!
I really appreciated the chance to sing at the Denver Outlaws game and hope to have the chance to sing the national anthem at the Denver Sports Authority Stadium again soon!